With a huge thanks to Neil Pollock from mahercup.com.au for the picture and incredible research: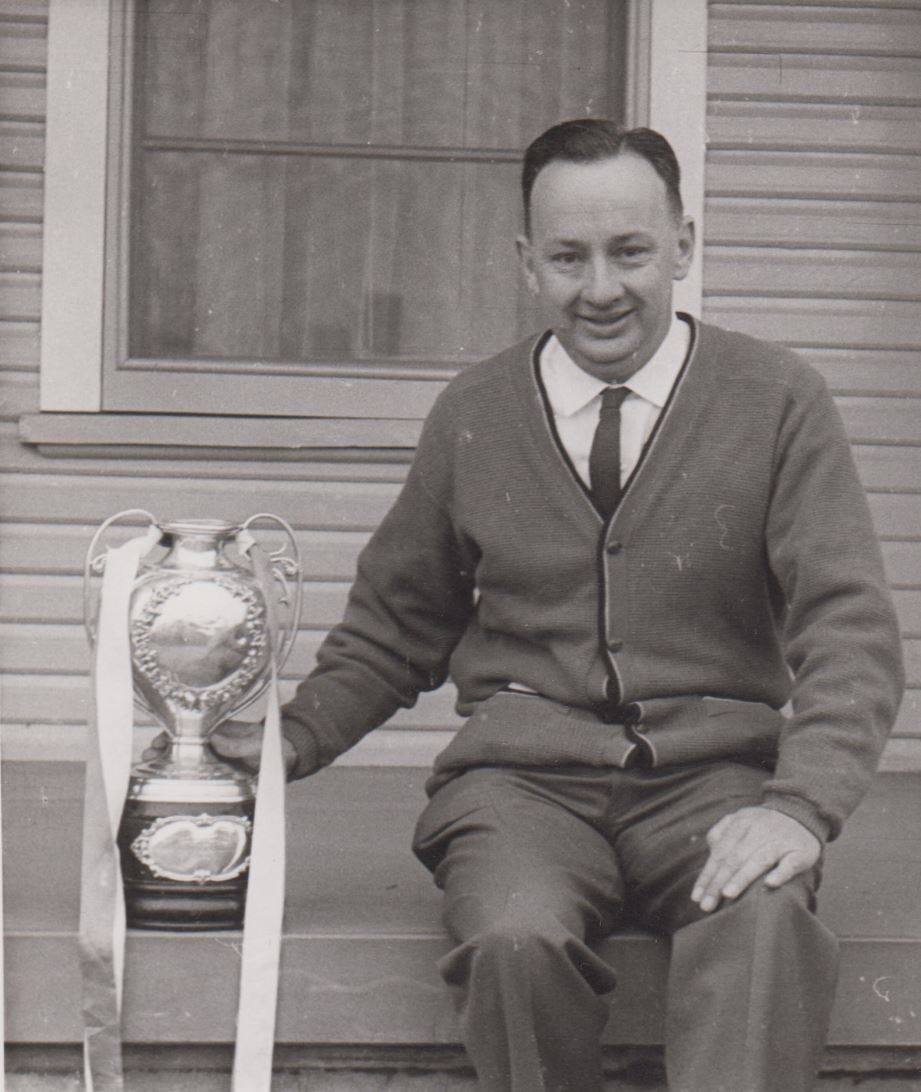 I'm researching the first Tumut Maher Cup team. Below are some short biogs of the 15 men selected to play in that match against Gundagai on 14 July 1920 at the Racecourse. Any additional additional information or corrections would be greatly appreciated. Neil from Mahercup.com.au
Ernie 'Curly' Dunn (1896-1926)
From Adelong. A locally regarded artist he died in the Adelong footballer's motor accident of May 1926. His gravestone reads 'accidentally killed in the football disaster on the Tumbarumba road 16 May 1926 aged 29. Also killed was 18 year old Eddie Crompton.
Jim 'Buck' Elphick, (1898-1965)
James William Elphick was a winger for Tumut. From a prominent pioneering family, one uncle, James Elphick was mayor of Tumut or a councillor for more than 30 years. Another uncle, Harry was a prominent AWU organiser. His brother Jack, who played in the forwards, later became deputy mayor of Botany Council.
Tom O'Brien (1889-1963), Captain
Thompson Joseph O'Brien was from Tumut, although the family is also associated with 'Rosebank' at Gilmore. The son of W.D.P. O'Brien, once owner of the rich Gibralter mine at Grahamstown, committed Labourite, 'Fenian', councillor and benefactor – builder of O'Brien's Hall, the Buttery Factory etc. Tom O'Brien went to the Great War in which two of his brothers died. He also a councillor and hotel proprieter.
Les Malone (1897-1968)
Leslie George Malone was from a pioneering family on the Tumut Plains, and the younger brother of Walter Malone. He became a policeman and later a detective in Sydney.
Walter Malone (1895-1977).
Walter Patrick Malone, the older brother of Les, enlisted in 1916, was promoted the Lieutenant and wounded. After the war he was a member of an AIF Rugby team which toured Europe. He also became a police detective.
Vern Harris (1894-1953)
From a prominent Tumut Plains grazing family, his full name was Hamlyn Lavicourt Vernon Harris. A bank clerk, he served in the 1st Light Horse from November 1914 and later returned to farming.
Norman 'Bob' Wilkinson (1896-1985)
Usually referred to as 'R. Wilkinson' in team lists, he hailed from Gilmore. In the Great War he served as a driver, later a machine gunner. He was a driver for the boss of the Gilmore to Batlow rail construction project in the early 1920s. The son of Henry William Wilkinson, he later lived in Summer Hill, Sydney with parents and brother Milton.
Con Crain (1898-1978)
William Consort Crain was a half back for Adelong and from a grazing family at Mt. Adrah. Living at Mt. Adrah all his life Con was also talented cricketer and tennis player.
Jack Crompton (1895-1966)
John Edward Crompton played for Adelong. He enlisted in the 1st Light Horse in August 1914 and served at Gallipoli and in Palestine.
After farming at Sandy Gully near Grahamstown he later moved to Ariah Park and then to Leeton in 1945, where he was a rice inspector
Jack Roche (1894-1974)
John Edmond was the second son of the Roche grazing family from Adelong. He like brother Frank didn't marry until in his forties. He lived all his adult life at the appropriately named 'Rochedale' property.
Frank Roche (1893-1959)
Laurence Francis was the eldest of the same grazing family from Adelong. He served in the 7th Light Horse and married in his forties. Was an auctioneer, shire councillor from 1939-1953, president of the Adelong RSL and secretary of the Adelong Jockey Club.
Roy Tonkin (1900-?)
Clement Roy Tonkin was an orchardist at Sunnyside, Wondalga south of Adelong. He married Ellen Arragon a relative of the Roches in 1925. She died in childbirth in 1935. He moved to various places including Camden, Bourke, Coffs Harbour and the Gold Coast, where he was still living in the 1980s.
Gerry Quirk (1896-1957)
The Quirk family came from Victoria in 1906 and established a dairy family at Bombowlee. Gerald (often the names 'Jerome' and 'Jerry' are used to identify him) later represented Group 9 against New Zealand. His brother Ted was a well-known Tumut bookmaker.
Rube Masters (1887-1967),
Rupert Clarence Masters was born at Tumut and lived there all his life where he developed the building company his father started. He also owned a farm at Elong Elong near Wellington. We fell 16 feet and suffered serious injuries in 1938.
'Dick' Bridle (1896-?)
The third son of Edwin George Bridle of Bombowlee his proper names was Edwin William Bridle. He fought in the Middle East in the 2nd Light Horse Machine Gun Squadron. After marrying in 1924 he moved to Junee where he worked for the railways, and where he still resided in the early 1980s.